When you visit our salon, you can let yourself go into our caring hands, relax, let the daily hassle flow away and immerse in the purifying bath of touches, which will make you smile in a way known just to the initiates.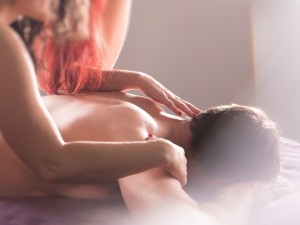 Our tantric massage is very relaxing, dissolves mental tensions and opens your spiritual heart. It offers beneficial experiences from sensual touches which flow in your whole body. It aims deep into your energetical structure and it gradually purifies you by means of excitingly pleasant touches, which heal you and fulfill you. The effect of the massage is usually a sense of deep relaxation, refreshment, energising, peace, mystery, love…
You will leave from Lakshmi purified, deeply harmonized, feeling a state of unconditional, lasting happiness, which you will spontaneously emanate to your surroundings long after the massage.
You are awaited by wise and beautiful masseuses and masseurs. Let your sould be touched through your body and open yourself to the experience of divine ecstasy! Accept our invitation to te tantric massage temple Lakshmi in Prague.
We are looking forward to you!